JA Career Speaker Series Virtual - Carlos Flores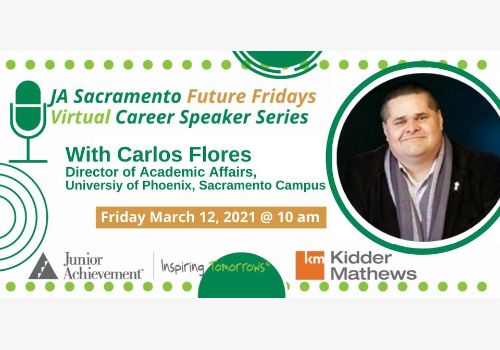 In JA Career Speakers Series, a volunteer guest speaker visits the classroom and shares information about his or her career, work, and education experience. (Grades K-12)
Event Completed!

When: Friday, March 12, 2021
Where: Online
Time: 10:00 AM PT
Carlos Flores will be sharing his education and career journey, what he does each day in his job, giving inspirational career advice, and answer students' questions. You will also learn how he came to this country when he was nine years old from El Salvador and his philosophy of, "Do what you love and love what you do."
JA Career Speaker Series Virtual - Carlos Flores
Become a Sponsor!
Sponsorships for these events are critical for Junior Achievement to continue providing life-changing programs to students in our community. These programs are delivered at no cost to students. You can make a difference in the lives of these students by participating in this world-class event!
Contact us
to get more information on how to sponsor a JA Event!